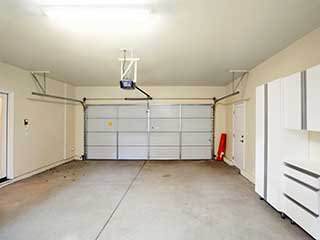 There are so many benefits to automating the operation of your garage door that the few possible problems you may encounter pale in comparison to the advantages. However, they can still be very annoying to deal with, and potentially dangerous as well. If your opener starts acting up or won't work, all you need to do is get in touch with our technicians.
Which Type Of Opener Do I Have?
It's very easy to tell what kind of opener you have, as there are really only four basic categories that exist today. A chain drive opener, as its name suggests, uses a chain on a rail in order to pull your door open. This type of unit is usually cheaper and stronger, but it is also the loudest by far. A belt drive opener operates similarly, except – again, as the name suggests – it uses a rubber belt (reinforced with steel). This makes it operate far smoother and quieter than the other types. A screw drive opener is basically a large threaded rod, so it consists of fewer moving parts, and therefore requires far less maintenance. It isn't silent nor is it cheap, and under some drastic temperature shifts it can experience some subtle issues.
The Fourth Option
The fourth type is significantly different than the previous three, as unlike them it is mounted against the wall, onto the torsion spring, and not on the ceiling like the others. It is called the jackshaft opener, and it can be a perfect fit for garages with minimal backroom space available.
Problems You Can Expect
Apart from issues related to the drive system your motor unit uses, like in a scenario where the door opener got off the chain, occasionally you may encounter problems with the unit's internal components, like the motor gears or the logic board. Even the safety sensors that are in charge of detecting obstacles can become misaligned or scratched. Whatever the issue may be, you'll probably need a professional to repair the problem. That's where we come in.
At Your Service
Our experts here at Garage Door Repair Lockhart are ready to carry out any opener repairs you may require. In addition, we can also consult you on the different models available today, and to help you obtain a quality motor unit from name brands like LiftMaster, Chamberlain and Genie. Contact us today for any related need you have.
In addition, count on us for:

Oil Tempered Torsion Springs

Belt Drive Opener Installation

Commercial Garage Door Repair

Roll up Garage Door Maintenance