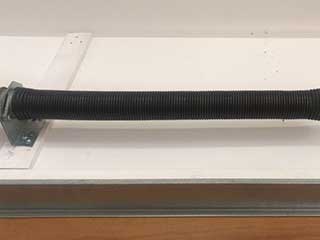 Regardless of which type of springs your garage door system uses, trying to repair these parts without professional help can be a recipe for disaster. If you find yourself dealing with a problem involving these units, your safest bet is to let our experts handle things.
What Type of Springs Are There?
There are two main kinds of units that are used with modern garage door models. The first is the torsion spring, which can often be installed as a single unit, due to its enhanced durability. This unit twists in order to become loaded with tension, and unwinds to release the tension and help the door open. The second type is called extension springs, and they are always installed in a pair. They are stretched along the horizontal tracks and are connected to the door on both sides. They stretch and contract in order to generate the necessary tension. Because of this, they are more prone to breaking and are connected to safety cables that help anchor them in place.
Are There Other Types?
Because Torsion units are the newer option that exists today, there are a couple of variations of it that can be used. Galvanized torsion springs are coated with zinc that helps protect them from rust and preserve their condition and service life. Oil tempered torsion springs are treated to a special cooling and healing process which covers them with oil that increases their performance rating and does away with the need for lubrication.
What Are The Risks?
Whether you see that your door is unbalanced and spring adjustment is required or one of these units breaks and needs to be replaced, the required solution requires technical skills and experience to perform. Adjusting these units either means winding or unwinding them (torsion) or reconnecting them at a higher or lower point (extension). Both of these cases require dealing with high amounts of tension, which can be very dangerous. When a spring breaks, it can whip around and cause serious lacerations.
Leave It To Our Experts
Our team here at Garage Door Repair Lockhart is ready to help you with all your spring related needs. Don't hesitate to get in touch with us as soon as you discover any kind of problem.
In addition, we offer:

Fix Rollup Door

Opener Clicker Repair

Torsion Spring Adjustment

LiftMaster Chain Drive Lubrication