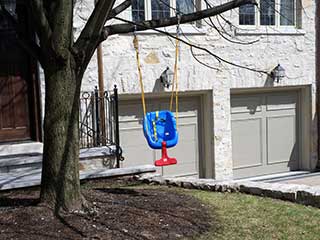 It's certainly not neurotic to consider the dangers a garage door poses - while providing safety and security, this system can also present a safety hazard. When you had the opener installed in the first place, you probably had your household and property's security in mind, so here are a few additional tips for making sure that no nasty accidents happen when it comes to your operating this fairly complex electro-mechanical system.
Have Working Sensors & A Safety Reversal Function In Place
Sensors are not just there to protect your car from damage - they're also there to ensure the door doesn't continue to come down when something or someone is in its path. If your system is particularly old and either doesn't have or currently makes use of faulty sensors, you should get this looked at asap.
It's also important to ensure that your garage motor's reversal function is working correctly. You can test it by laying rolled up towels down on the floor, then triggering the door to come down. If the reversal function is working properly, the door should back up again at the first sign of pressure from the towels.
Make Sure Your System Is Healthy
If you want to protect against unexpected accidents, be sure to keep your system regularly serviced and properly maintained. Keep a casual eye on the opener to ensure that the door springs and brackets don't become rusty or broken and that the motor is properly covered and without exposed wiring or damp.
Keep The Remote Out Of Reach Of Children
It can be fairly easy to leave our garage remotes lying around, but if you have kids (or even if the neighbors have kids, you should be careful that these tools don't fall into the wrong little hands If you're having a wall clicker installed, you should also ensure this is kept high enough out of reach of small children.