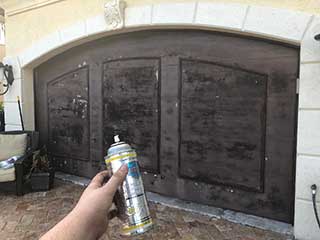 For a door to work to the best of its ability, it needs lubrication. In fact, there are a number of different components in your system that could benefit from this service. From the tracks to the springs and hinges, and a lot more besides, here's how to keep your door in tip-top working order with regular lubrication.
An Open And Shut Case

No-one wants to leave the house or come home to a persistently noisy door. It's not only inconvenient but the noise can also cause hassle and complaints from your neighbors. With regular lubrication, you can eliminate this annoying problem and guarantee a smooth and noise-free operation every time the door raises and lowers.

Extend Your Door's Lifespan

Extending your door's lifespan and making sure it operates smoothly is a piece of cake! Regular lubrication of your system's components can contribute a lot towards a strong functioning door. All you need to do is lightly spray a recommended lubricant on the moving parts every three months or so. It is important to consult with specialists before using any products that could potentially harm your door. As a first step, take a look at your garage door's user guide, and discover which products could suit your particular system. Better still, you can get in touch with a member of our local team for hands-on help and advice!

Rinse And Lubricate To Prevent Rust

Eliminating dust, dirt and grime will help to prevent your system from rusting. All you need to do, on a regular basis, is to rinse the various components with a combination of a gentle detergent dissolved in clean water. After rinsing, it's time to get on with the lubrication. Avoiding any rust-cutting oils and choose a lubricant suitable for your individual door. For professional advice and a greater peace of mind, contact a skilled professional. Our team of local technicians is on hand to offer friendly professional advice when you need it most.